I got inspired in making this recipe after we stayed at my vegan chef friend Shirley (from sushorganics) in Belgium the other day. She made us a wonderful chickpea salad that I couldn't wait to try again at home with adding a few other ingredients.


This version is wonderful when in needs of a hearty meal, that packs a punch in nutrition and will satisfy your taste buds. The sweetness of the pumpkin pairs wonderfully with the roasted hazelnuts and the mustardy dressing. Have a try and enjoy!
– 1 can of cooked chickpeas, rinsed and drained
– 200g of cubed pumpkin

– 2 handfuls of fresh spinach

– 1 bunch of fresh cilantro
– 1 red bell pepper
– 1 cup hazelnuts
– 1/2 cucumber
– 1 red onions
– 5 garlic cloves
– 1 tbsp curry powder
– Salt and pepper
– 1 tbsp coconut oil
– 1 avocado
SAUCE:
– 1 tbsp mustard
– 1 lemon, juiced
– 1 tbsp olive oil
– Salt and pepper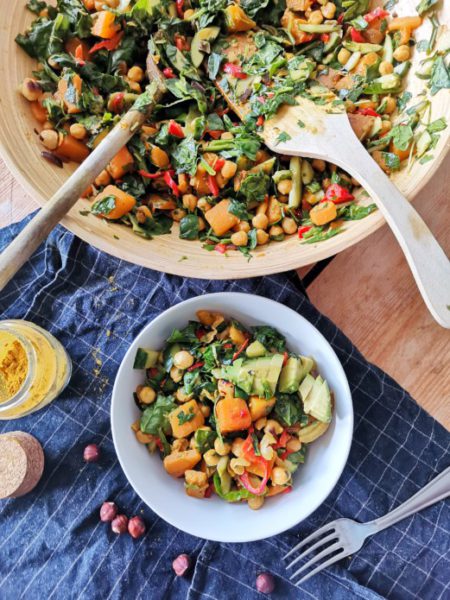 1. Start by chopping the spinach finely and add it to a large salad bowl.
2. Add coconut oil to a warm pan and let it heat up. Add finely chopped onion and garlic. After a minute or so, add the cubed pumpkin and let it cook on low heat while stirring often.
3. When the pumpkin is soft and well cooked, add the chickpeas to the pan and the red bell peppers, chopped finely. Stir often.
4. Meanwhile, place the hazelnuts in another pan with no oil and roast them until their skin peels off. Remove from the fire and remove all the peels under water.
5. Place all the ingredients in the large salad bowl. Add the fresh cilantro that you cut finely to the salad mix.
6. Prepare the sauce: mix the mustard, olive oil, lemon juice, salt and pepper together and add to the salad bowl.
7. Serve in bowls and top with avocado.
Hope you enjoyed this recipe and let me know if you tried!