I've been healing a series of neurological symptoms for 20 months now, from impaired cognitive abilities to weak and paralysed leg muscles, with a nutrient rich, living raw food diet comprised of mostly fresh, organic and ripe fruits, vegetables, herbs, seeds and nuts.
I've seen this diet allow my body to detoxify toxins way more efficiently than anything else and it brought amazing results so far: less brain fog, dizziness, vertigo, and stronger leg muscles. It literally got me out of my wheelchair which is a freaking miracle. 
But sustaining such diet is no easy task, especially when living in Northern climates and not having access to perfectly ripe fruits, and being constantly confronted to the food choices of people around us.
I'm going to be honest, I also sometimes miss the "heaviness" feeling of a cooked, grounding meal. And then there is this little voice in my head that whispers: "Come on, have a little bit. It's what everybody is eating. It's normal. Don't be so extreme".
Do you hear that voice too?
So in between my "perfect" diet, designed to heal me, I sometimes indulge in some homemade, vegan cooked food.
That includes: rice, beans, tomato sauce, coco oil, coconut aminos, oven baked potatoes with a bit of oil and salt, and chickpeas made into a creamy hummus.
So you see, it's not all "bad": no fried foods, no food additives and food enhancers like glutamate, no gluten, no dairy, no animals…
I've also tried caring less about food combining (a concept that says that some types of food groups take different amount of time to digest, so you should pay attention to which food you're combining together when eating.
Typically carbs and fats should not be eaten together as fat takes longer to digest and the sugar in the carbs will ferment and rot, causing long term a gut dysbiosis and many annoying symptoms – smelly farts being number 1). 
Anyway as far as I'm concerned, the immediate results of eating an heavier meal are quite crystal clear: 
I am immediately thirsty, feeling dehydrated, heavy and numb. I feel tired and sleepy, I have no energy.

And if I want to go on a short walk after dinner to train my leg muscles, I literally cannot do half of what I usually walk. My legs are shut down, they feel heavy, sore, painful. I cannot help but to feel frustrated and slightly angry. 
I go to bed and I feel my body struggling to digest the food I ate for dinner a few hours earlier. And weird enough, the next morning I wake up and I feel hungry. That's odd since I ate heavier than usual the day before, but yet this feeling of hunger is very strong and present.
I never experience that when I'm eating only fruits and veggies.
That's probably because the cooked, heavier meal didn't bring me the nutrients that my body craved, and the mix of sugar + fat it created an insulin resistance that puts me in an hypoglycemia state the next morning (as the fat prevented the cells from absorbing their fuel: sugar). 
And the most interesting part is the message I get the next morning from Oura ring, my biofeedback tracker:
---
"Your resting heart rate was above average, so you might not be fully recovered". 

Screenshot of the Oura ring app on my phone
Guys, I get this message every time I eat cooked, heavier foods the night before (the only other time I see this is when I exercise too close to bedtime, which I know now is not ideal for my recovery.)
What your heart rate does when you're sleeping can tell you a lot about how well you're recovering:
"Even though there is a lot of variability between individuals, night-time heart rates are very similar for one person – at least when you stick to regular habits. This is why nocturnal heart rate is one of the factors that you may trust when interpreting how your lifestyle choices affect your recovery. For most Oura users, even a 4 bpm change marks a clear difference. You Heart Rate during the night reflects the day."
The "Hammock" curve
The best Heart Rate pattern you can get during the night is the one that creates a "Hammock" curve:
"The hammock-shaped curve can be considered the optimal heart rate curve. During the first sleep cycles, your body relaxes and your blood pressure and heart rate drop. Your lowest heart rate happens at the midpoint of sleep when the amount of melatonin is at its highest. If you are perfectly aligned with the rhythm of the sun, your lowest basal body temperature also occurs around 4 am.
Note that your heart rate can momentarily rise during REM sleep. You can ignore these spikes when looking for the hammock-shaped curve.
Towards the end of the night, your heart rate starts to rise to prepare you to wake up. The hammock curve is a sign that your body was relaxed during the night, and ready to rise after a good night's rest."
When do I get this Hammock curve?
Whenever I eat an abundance of unprocessed, nutrient rich foods (raw fruits and vegetables, low fat):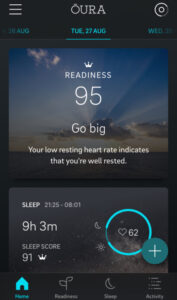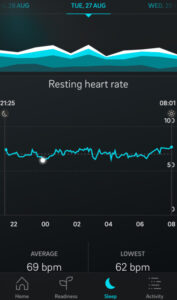 The "Downward slope"
The downward slope on the other end, indicates that your metabolism is working overtime:
 "If your resting heart rate starts high and reaches its lowest point right before you woke up, you may wake up feeling unrefreshed. If you see the downward slope regularly, it's a good time to stop and think if there's something you could do differently."
When do I get this "Downward" slope?
I spotted 3 instances when I get this heart rate pattern at night:  
When I eat a heavier, fattier cooked meal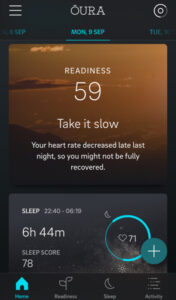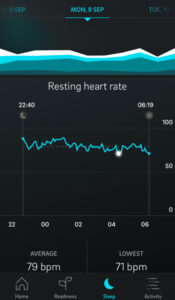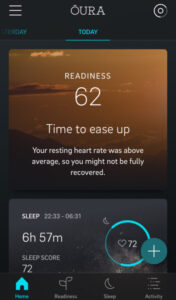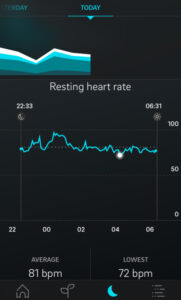 When I exercice too close to bedtime (funny enough that also means going to bed too late)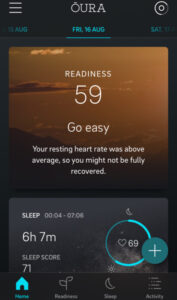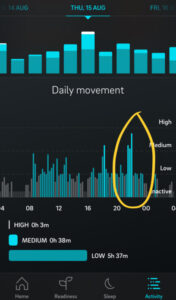 When I go too late to bed or get too many stimulations before bed (screens, violent movie etc – that day bedtime was 00:27)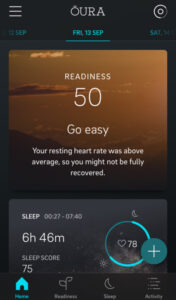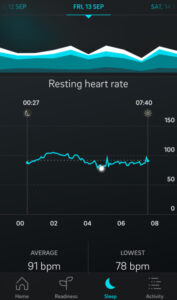 So yep, cooked foods definitely impact my recovery during the night.
I have at least 20 screenshots showing that everytime after a cooked, heavier dinner meal, my Heart Rate lowered too late in the night and that I am not properly recovered. 
So are cooked foods bad?
Noooo. I am just sharing my experience here and what I've witnessed in my own healing journey. If a certain type of cooked food makes you feel a lot better, then have at it and enjoy! We are all evolving in different environments with different needs at this specific moment in time and it's important to always listen to our body's signals and symptoms.
What might not work for you might work later in the future. That's why listening to our body is always best. It knows what it needs. 
But for now – I'm back at my supra healing diet: raw fruits and veggies.
I'm curious you guys, did any of you experience the same with cooked food? Please feel free to share below!
xx
Julie