Did you start your healing journey using a therapeutic diet and a targeted detoxification protocol, in order to heal chronic symptoms and regain your health?
If you have, that's amazing!
You can be proud of yourself for taking the first steps towards a symptom free life, great energy and vibrant health.
But if you're on a detox protocol, chances are that you have started awakening a lot of toxins in your body – and for some of you this phase might feel very uncomfortable, with old symptoms resurfacing and possibly skin issues worsening.
And that can be very frustrating, especially when we are working so hard to heal ourselves and yet it seems like we are getting worse.
So what is happening?
Well chances are, that you are not eliminating these toxins properly.
See, health doesn't only come from what you put inside of you – bur rather, what you successfully ELIMINATE.
I was having a conversation about how important this topic is with my good friend Amy Southorn the other day, and her knowledge about binders was so impressive that I asked her if she was willing to write an article for my blog about binders – and she agreed.
Thank you so much Amy for sharing your knowledge with us and everything you've learned along the way, as a wellness warrior yourself.
You may be awakening toxins, but are you releasing them?
It is 2019 and our bodies are being exposed to toxins like never before.

We are being exposed every single day. Our bodies have not evolved to deal with these toxins and they are crying out for assistance.
We need to break the cycle of the enterohepatic recirculation of toxins. Enterohepatic circulation is a crucial system of the body that governs the progression of bile from the liver, through the gallbladder, into the small intestine and back again.
95% of bile (with accompanying toxins released from the liver and gallbladder into the small intestine) is recirculated. Unless there are specific insoluble fibres and binders present in the gastrointestinal tract, these toxins will be reabsorbed by the hepatic portal vein and continue to put a massive strain on the liver, kidneys and the body as a whole. (This is where a higher insoluble fibre diet in itself is incredibly helpful, but unfortunately, many of these modern day toxins we are exposed to are not so easy to bind and need to be specifically targeted).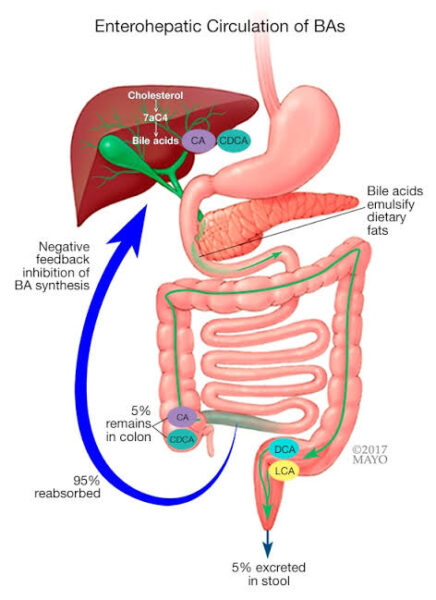 Source: Mayo Clinic


So that's where you come into play.
By assisting your body and giving it the best tools it needs to safely expel these toxins out of your body so you can finally heal and move on with your life.
So what are these tools?
Drum roll….
They're binders.
What are binders?
Binders help to carry these toxins out of us safely instead of being recirculated in our system indefinitely. Yes, many of the most toxic compounds we are exposed to are stored in the liver and recirculate in our systems until they can be properly eliminated.
Our bodies can only deal with so much at a time. As these toxins accumulate our bodies also protect us by storing them in tissues and fat cells.
Toxicity can typically lead to weight gain and severe lymphatic stagnation. Our bodies are ALWAYS working for us and want to protect us by storing toxins away from vital organs. Weight gain? Look to your environment.
If you are suffering from a chronic illness, it is highly likely you were born with generational toxins passed down in utero.
Then over your lifetime you have accumulated toxins from our food supply (pesticides, herbicides, fungicides), heavy metals from industry, agriculture and amalgam fillings, toxic mould, chemicals from chemical laden skin care, make up, nail polish, deodorant, cleaning products, VOCs and formaldehyde from paint, carpets, furniture, clothing and linen, toxins from the air we simply breath every day which will vary greatly in quality depending on where you live, mercury and micro plastics from seafood, plastic, aluminium, endotoxins ~ the list goes on.


Let's break the cycle together, and finally offer your body a chance to heal.
Binders are an essential part of any detoxification protocol.
Without them, progress can be very slow as the body attempts to mobilise, bio-transform and eliminate toxins.
The plan: AVOID, MOBILISE*, BIND and RELEASE.
AVOID toxins: switching to natural, toxic free products – here is Julie's list), eating organic food, avoiding polluted areas…)
MOBILISE* toxins (ie draw deep from tissues and organs): with a personalised detoxification strategy, therapeutic diet and supplementation,
BIND toxins internally: all the info you need is below, keep reading!
RELEASE them ~ bowels, kidneys, sweat and breath.
*There is also the option to add another step once you feel comfortable and that is to further mobilise toxins from tissues and organs with nano zeolite fragments and ALA that cross the blood brain barrier but I am still unsure whether this is completely safe or necessary. The Medical Medium HMDS (heavy metal detox smoothie) may be the best option if used with caution and taken very slowly as cilantro does cross the blood brain barrier also.
My favourite toxin binders, what they bind and how to use them.
Did you know that binders such as activated charcoal have been used for hundreds of years not just in 'alternative' medicine but also in emergency medicine for acute toxicity?
It is crucial to source high quality binders from reputable companies that have been tested for purity. This is particularly important when it comes to choosing a zeolite, algae or clay because some are contaminated with the very toxins we want to avoid and detoxify.
Different binders have an affinity for different toxins due to their net charge and various molecular bonds. Many work because their negative charge is attracted to the positive charge of various toxins.
An important factor to be aware of when introducing binders is that they can be constipating. Keeping the bowels moving during detox is of the utmost importance. Elimination pathways need to be open. For those with digestive issues and an intolerance to heavier weight binders it is best to start with the lighter weight binders as they are less obstructive. Always take binders with lots of water so they can move through you without leaving residue.
The best binders (from lighter weight binders to heavier binders)
*Lighter weight binders will be tolerated by those with gut issues or slow gut motility.
Don't forget to rotate binders
It is best to rotate binders especially the heavier weight ones such a zeolite powder, bentonite clay and charcoal.
Microsilica is best pulsed. 5 days on, 2 days off.
Some binders such as nano zeolites, chlorella, Biosil and humic and fulvic acids can be taken consistently.
The biggest concern with consistent use of binders such as activated charcoal and clays is that they may bind nutrients. It is crucial to take these binders away from food.
I recommend 1 ~ 2 hours before foods or 3 hours after.
Other binders should be spaced out from food too but half an hour before a meal is usually adequate.
Mineral supplementation
I highly recommend mineral supplementation whilst binding but also for life long maintenance. Some binders may also bind minerals in the GI tract.
Mineral deficiencies are common due to extremely depleted soils and mineral deficient food. The body is more likely to store the heavy metals we are exposed to if we are mineral deficient as they look very similar to essential minerals. Displacing the heavy metals with essential minerals is crucial.
I highly recommend Concentrace drops in purified water as well as fulvic and humic mineral supplementation.
Your use of binders is going to vary greatly depending on what you are treating and whether it is for acute or chronic toxicity. There will be times when more binders are needed when you are chelating heavy metals, diving deep into detox and awakening a lot of toxins or actively killing pathogens. It is wise to rotate binders and experiment with different kinds to see how you respond.
Ultimately they should make you feel better as they take a load off your organs and bodily systems.
Hair mineral analysis test
I also urge you to test for heavy metals using a hair mineral analysis test. Although no heavy heavy metal test is 100% accurate it may give you insight into what metals to target and therefore what binders to focus on.
My final recommendations and what you should start with
Binders are an essential part of advanced modern day detox. Your choice of binders needs to be individually catered to your unique situation and tolerance.
I know that this can all seem very overwhelming, but regardless of test results or what label your dis-ease has been given, a great place for most people to start is:
by taking a safe zeolite GI tract binder (powder) alone
or alongside a liquid nano zeolite spray.
I recommend starting with 1/2 tsp of Zeolith or Zeobind zeolite powder mixed into 500mls of water on an empty stomach, preferably before breakfast. If you choose to also take a nano zeolite spray, follow the specific instructions for the particular brand and start very slowly, I recommend starting with one drop or spray per day.
I must reiterate here that binders should only be used if elimination pathways are open, particularly the bowels. I also highly recommend them to be utilised in conjunction with a well planned detoxification protocol.
I am a huge fan of the Medical Medium protocols, Arnold Ehret's Mucusless Diet and Dr Morse's approach to detoxification.

These therapeutic diets are very similar in that they are plant based, high raw and high fruit.
Fruit and greens are consumed in abundance. This dietary approach in itself mobilises and awakens toxins and impacted fecal matter that can then be bound and then released with the help of enemas and colonics.
You've got this!
Amy
_ _ _ _ _ _ _ _ _ _ _ _ _ _ _ _ _ _ _
---
Thank you so much Amy for writing such an informative article, I hope that it will help many of you!
Do you guys have experience with binders?
Which one did you find was the most effective for you?